Marvin Stephens

1913-1996

Crop Duster · Cotton Farmer · "The Organ Grinder"

How related: Verna's father




Childhood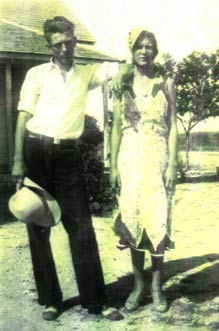 Marvin Eugene Stephens was born to William Maple and Ida Lilly Smith Stephens on October 21, 1913 in Argyle, a farm town in Hamilton County in central Texas. He was the youngest, with three older sisters, Eula, Imogene and Avis, pictured here. As a child his family spent a lot of time enjoying music together. His mother played the piano as well as his older sisters and they all had fun singing together. Marvin taught himself to play the piano before his feet could touch the floor. He had a natural talent and could play anything he heard. When he was older he took a piano lesson and afterwards said, "I already know all of that!", and never went back for another.

Marvin attended the Olin Baptist Church. As a teenager he accepted Jesus as his Savior and was baptized in the creek. During grammar school at Gum Branch Marvin dated Viola Berkley and his best friend Dan Haile dated her identical twin sister Zeola. Marvin didn't get to continue with his formal education but Viola traveled over to Fairy to attend high school and there met Thelma Richerson. Viola introduced Marvin to her new friend Thelma Richerson. Viola and Thelma became great friends because they enjoyed the same things. They took piano lessons from the same teacher and played duets together at recitals. While the other girls were standing around, scared they might break a finger nail, Thelma and Viola were playing basketball on the court next to the high school.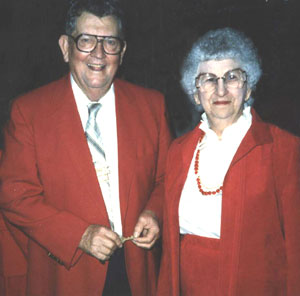 Marvin Marries Thelma Richerson
On March 2, 1932 Marvin and Thelma got married in the back seat of a car in front of the watch maker's shop in Hamilton by the Baptist preacher. Three years earlier (March 27, 1929) Dan Haile had married Zeola, then fifteen years old. After Viola lost Marvin to Thelma, she began dating Leonard Hargrove. Two months before Marvin and Thelma married, on January 23, 1932, Viola and Leonard were married in a car by the same Baptist preacher on the village square.

Marvin took a job with an electrician, but soon abandoned it as being too dangerous. He wondered if he could find fame and fortune in the fledgling moving picture industry, and bought into a new Movie Theatre in Merkel, a little farm town just west of Abilene TX. It was an exciting venture and he won the admiration of his friends, but the economy was still struggling to recover from the Great Depression, and the community was too small to draw enough movie goers. The photo shows Verna standing in front of the old movie theater in 2010.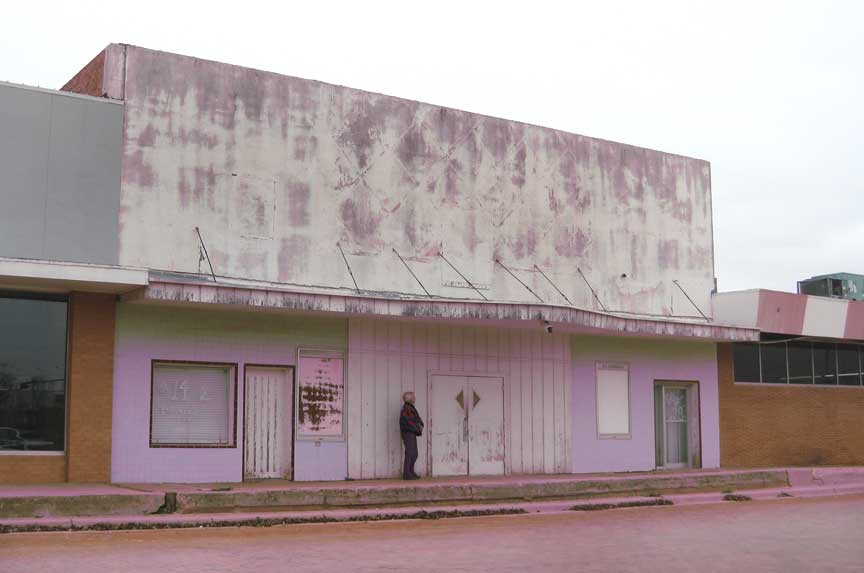 Darrell and Verna Lee were born in Fairy in the same farmhouse where Thelma had been born in 1914. The Richerson and Stephens families decided to give up dirt farming in Hamilton County and try irrigated cotton farming in the high plains of West Texas. In 1937, Marvin followed, moving his little family to the tiny community of County Line in Lubbock County (18 miles north of the city) close to Thelma's parents. They rented a tiny two room house with some acreage and started farming cotton. It was on that farm in 1940 that Reggie was born. They eventually realized that it was too cramped and moved a mile west into a larger 3 bedroom house with indoor plumbing and a barn, they called "the Biffle place."

Thelma played piano for the County Line Baptist Church where they attended faithfully Sunday mornings, Sunday nights and Wednesday nights. Marvin occasionally led the singing. During the summers he and Thelma took the kids on vacations to Colorado where they visited mining towns, museums, and countless fishing holes. Marvin loved to travel and he never met a stranger. Whenever they stopped for gas, the family waited in the car while he visited with whomever would talk with him. Whether in Colorado, in Oregon or East Texas, Marvin could always find an acquaintance or a place he had in common with that person. The family joke was, "Hi, I'm Marvin Stephens and I'm from Abernathy, Texas! What's YOUR NAME and where are YOU from?"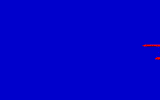 In 1962, despite continued farming in County Line, Marvin and Thelma moved "into town", purchasing the house at 1608 Avenue G, Abernathy (in Hale County). A decade later he and Thelma undertook the Stephens Aerial Spraying business. Marvin had always wanted to become a pilot, but when he got ready to get a license, he couldn't pass the physical. So he hired others to do the flying for him. It grew into two Agcat spray planes and a six-seat twin engine Aztec (just for fun). They used various local pilots such as Larry Jeeters and served customers within a thirty mile radius of the Abernathy Airport. When a plane was in the air, Marvin always drove to the farm in his pickup to mark rows for the pilot. In all those years they had only one serious accident when Larry clipped a power line and had to ditch into a field. Larry was climbing out, unhurt and Marvin rushed over in his truck, got him out of his chemically soaked clothes and doused him with water. The plane was repaired and flying again within a week. After a decade, Marvin quit farming to focus entirely on the spraying business.

During the 1970's he and Thelma made the transition from pickup camper to mobile home to a big van pulling a 32 foot Silver Streak trailer. They traveled the USA making friends with thousands. The honorary pallbearers at his funeral were friends from the Silver Streak Travel Club.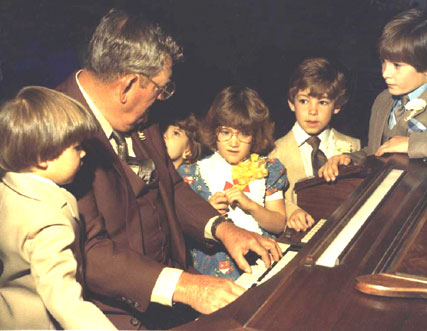 At regional and national rallies, men would move his organ out of the trailer house into the recreation centers for Marvin to entertain. Those Silver Streakers named him "The Organ Grinder". Whether it was a friend, family member or new acquaintance, the very mention of "How About Playing a Tune?" was responded to without hesitation as he climbed onto the bench and adjusted the settings of his organ for a concert. He had a gift and he shared it willingly! He is pictured here playing during their 50th Wedding Anniversary in 1982 for five of his great grandchildren: Ladd, Kayla, Rindi, Link and Joe Don. If you click on the photo it will bring up a photo from 1969 when he was playing for their parents, his grandchildren: Keith, Kim and Kerry Compton.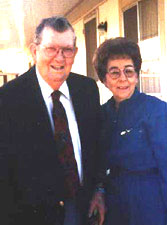 Marriage to Viola Hargrove
In October 1986 Leonard Hargrove died and in February 1987 Thelma Stephens died. A short time later Marvin went back to Hamilton to visit his best friends Dan and Zeola Haile and to see Viola. They started dating and on November 3rd, 1987 were married in Marvin's home in Abernathy by Rev. Dennis Teeters, who also officiated at his funeral. They spent the following week honeymooning in Boulder, Colorado at the home of his daughter Verna Lee.

Marvin and Viola spent eight years as loving companions, traveling and splitting the calendar year between Abernathy and Mesa AZ. In September 1994 he became ill and was diagnosed with kidney cancer and parkinsons. A month later the family arranged a surprise party for Marvin and Viola's 81st birthdays. People traveled from a several state area and 81 guests showed up!

Six months later (1995), his children and Viola decided to enroll Marvin in hospice so he could spend his final days in his own home among family and friends. The family felt a deep sense of gratitude for the Lubbock Hospice and the Companion Care staff for their dependable and skilled assistance to the end.

On Sunday, January 21, 1996, his three children and Viola gathered in Marvin's bedroom, knowing he was near the end. Verna asked him, "Daddy are you ready to go?" He answered, "Why, no." She asked, "Why not?" He said, "I'm waiting for the one who is coming for me." As she pondered this, Marvin's eyes widened and turned towards the ceiling. A smile filled his face and his hand reached upward as he said, "Pappa !!" Within a moment his arm lowered and his eyes closed. His Dad, Will Stephens, had met him to welcome him into the hereafter. The living room clock struck 10:00 am. Marvin had gone "home" to be with God. We assume they soon made a place for "The Organ Grinder" in one of heaven's dance bands.
---