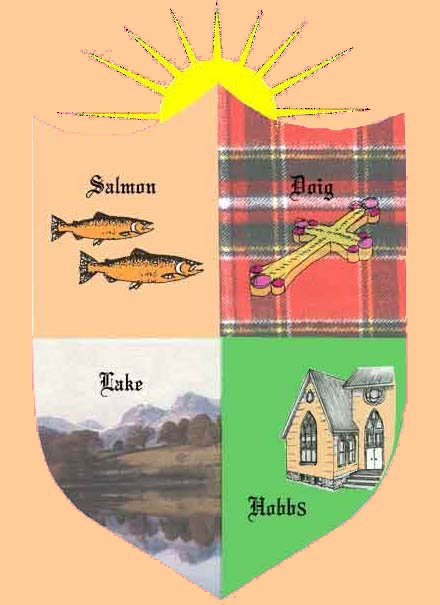 This family crest is in four quadrants representing the four families who are grandparents to Rich Salmon. They are the Salmons and Lakes from Antigua, the Doigs from Antigua and Scotland, the Hobbs from Maryland and initially England. The five areas of the crest design are described below.



Bill, Howard, Betsy and Rich Salmon were all born in the United States of America to Horace Salmon and Betty Doig Salmon. William Horace ("Bill") Salmon was born in Richmond, Virginia on March 14, 1924 and died at age 81 on March 21,2005. Bill had been living in Virginia Beach, VA. Francis Howard Salmon was born in Hackensack, New Jersey on January 31, 1926 and today lives in Bernardsville, NJ. Elisabeth Lee ("Betsy") Salmon Garrett was born October 10, 1930 in Trenton, New Jersey and now lives in Winchester, Kentucky. Richard Farley Salmon was born February 8, 1935 in Trenton, New Jersey and now lives in greater Denver, Colorado.



1. Salmon is an English family name possibly from the Biblical character "Salmon" mentioned in the geneology of Christ (Matthew, ch.3) who was the father of Boaz, father of Jesse, father of David the King. However, it is more likely they were fishermen who "named" the species, or themselves were named after the salmon fish that they caught. Salmon family crests from England always show two or more fish, but none as accurately depicted as the salmon pictured here. The background is universally called the "salmon" color.
During the 18th century, the John Salmon family of Barbados, bore James Farley Salmon (1788-1852) who migrated as a young man to Antigua. Massa Jim was a planter of sugar cain, and prior to the end of slavery in 1820, was manager of an estate that had 188 slaves. He and Elisa Johnson Salmon bore James Francis Nelson "Frank" Salmon (1842-1909) who was born and died in Antigua. Frank and Alice Lake Salmon bore Francis Horace Salmon (1888-1951) who emigrated to the USA in 1906. Horace married Carrie Elisabeth "Betty" Doig in 1921 and they bore Bill, Howard, Betsy and Rich Salmon.



2. Lake is a family name brought from England to the West Indies by John Lake, father of Deborah Alice Lake (1856-1941), the paternal grandmother of Rich Salmon. The illustration of an inland lake reflecting the hills and mountains of western England is reminiscent of their ancestry. Alice had an Irish maternal grandfather, Benjamin O'Connor, who emigrated from England to Anguilla.

3. Doig is a Scottish family that was prevalent in 17th and 18th century Scotland, although quite rare in the USA today. Doig is the Scottish spelling of the English name "Dog" and "Dogg." They were a sept (auxiliary family) of Clan Drummond and therefore wore the Drummond tartan into battle and on other occasions (pictured to the right and in background of crest). The Drummonds fought with William Wallace against the English, a story told in the movie "Brave Heart." A gaelic cross depicts the religious fervor of William James Duncan Doig (1867-1902), the maternal grandfather of Rich Salmon. Born in Antigua to a Scottish watchmaker, Will emigrated to Baltimore about 1887 and married a Methodist minister's daughter. Will made a livelihood in sales, eventually co-owning a coal company in Brooklyn NY along with his brother-in-law. Will Doig's passion, however, was his avocation as a lay preacher at the turn of the century among Brethern Churches of the USA and Canada.



4. The Hobbs, an English family, settled in Maryland during the 17th century, introducing Methodism to that colony. Carrie Lee Hobbs (1852-1943), Rich Salmon's maternal grandmother, was born in Howard County MD to Rev. James A. Hobbs and Sophie Hobbs, distant cousins. The Methodist church pictured in the crest was one of two churches on Hobbs Road, one pro-slavery and the other anti-slavery, just a mile east of the Hobbs farm. Harmony Cemetery, near the church, bears the graves of Carrie and husband Will Doig as well as scores of other ancestors named Hobbs, Howard, Musgrove and Lee. After Will died in 1902, Carrie married Vines Turnbull, a Scotsman from Florida who personally bore no children, but helped raise Will's three daughers: Haroldine Virginia (Hal), Carrie Elisabeth (Betty) and Ethelwyn (Poss) Doig. The verdant green background symbolizes the crops grown on the Hobbs Farm during the 19th and 20th centuries.

5. Sunrise above the shield is symbolic of the light of God which has guided these families down through the centuries. It is a spiritual connection that binds them together...an energy that has unceasingly attracted family members to their Creator. This sunrise symbol was in part inspired by today's flag of the nation of Antigua-Barbuda that portrays the sun rising out of the sea.




Antigua was the birthplace of three of these four families. Discovered and named by Christopher Columbus in 1493, Antigua was settled by the English starting in 1632. They subdued the Carib natives and formed an agricultural colony. During the 17th and 18th centuries the Antiguans imported African slaves to work their sugar estates. The British Navy built a large base starting in 1784 in Antigua's English Harbour to defend British merchant ships that carried sugar, cotton and tobacco from the Caribbean to Europe. In 1834, Antigua became the earliest colony in the Americas to abolish slavery. By the end of the 19th century, Europeans were buying from other markets in Africa and India. After a presence of 105 years (1889), the British fleet was pulled out of the West Indies and English Harbour was abandoned. Frank Salmon (1842-1909) lost his home at Richmonds Estate to a fire, and in 1889 became Caretaker at Nelson's Dockyard and moved his family into what was then called "The Admirals House." They lived there for more than a decade until the depression of the 1890's became so severe that the Salmons moved into St.Johns (about 1902) and Horace Salmon (then age 14) went to work in a mercantile store. Today, English Harbour is a favorite anchorage for yachts around the world and a central focus of the annual Antigua Sailing Week every April. Nelson's Dockyard National Park was commissioned during the 1960's, and the Salmon's former dwelling is now a tourist shop and the Antigua Naval History Museum and has been renamed, "The Caretaker's House."